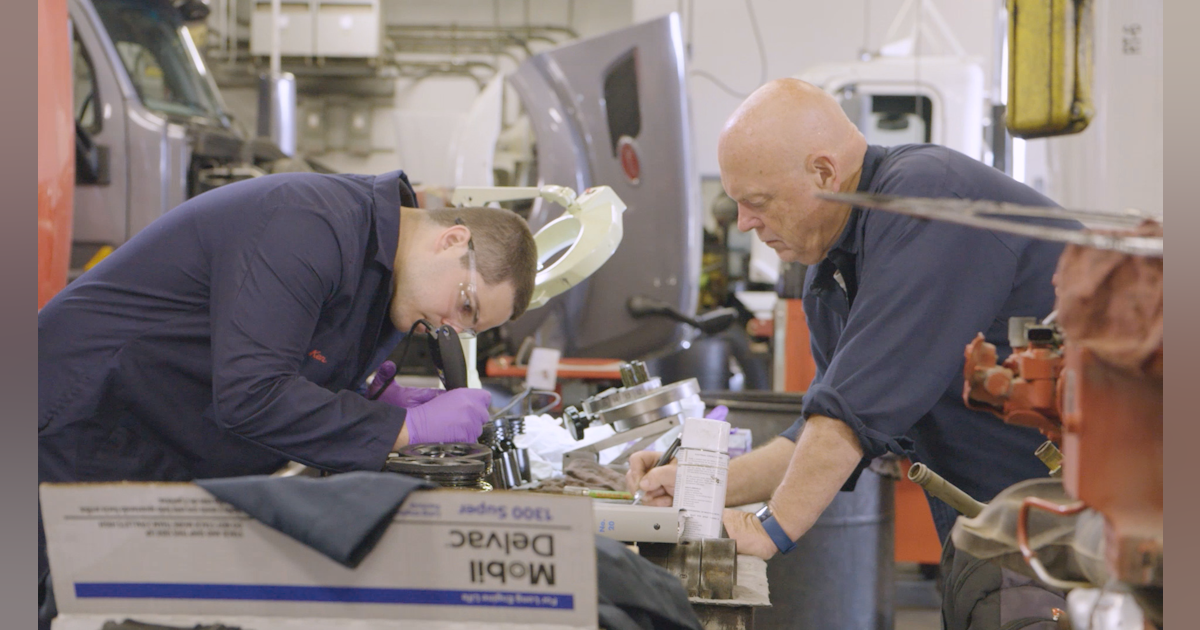 Warm welcome, family atmosphere, key to the success of store loyalty efforts
[ad_1]
This is the second part in a series on how to improve retention strategies in the store. Read part one here.
There are many ways that fleets and stores can turn the raw clay of auto business students into master mechanics. It begins by engaging with secondary schools and post-secondary centers. An owner or executive may sit on an advisory committee to guide the program. A seasoned technician can walk through the school to provide students with an accurate account of what is really going on in the bay. And maintenance staff can welcome students into the facility so they can see firsthand what life is like in the store.
If executed correctly, these strategies will work to get technology in the door, advised George Arrants, vice president of the ASE Education Foundation, and Paul Cigala, ExxonMobil commercial vehicle lubricant applications engineer and vice president. of the TMC S.3 engine study group. The duo host a podcast called "The Long Haul with George and Paul" where they and their guests discuss it in more detail.
That gets that newly sculpted entry-level tech through the door, but what happens next? Cigala and Arrants explained to Fleet maintenance (FleetOwner's sister post) that onboarding is just as crucial to keeping a new hire's interest in the auto repair trade – and your business – high enough to build a career and live in it.
Too often, those pieces of clay are treated like chunks of meat, "thrown to the wolves" and "left to die," Arrants said.
Patience is a much better practice, according to Arrants, a former automotive technology educator.
"Don't expect them to be productive right away," he advised. "Don't think of junior technicians as an expense; view them as an investment in your business. Most businesses want instant gratification. They want this seasoned tech, and let's be honest, no seasoned tech worth its salt is out there looking for a job.
"Why hire someone who has bad habits when you can hire someone who doesn't? Arrants asked. "The only bad habits they learn are the ones you teach them. "
Arrants also noted that it costs on average between $ 7,500 and $ 9,000 to onboard a new technician.
"Wouldn't it be better to take that money that you constantly use to find new people, and maybe invest some of it in your current employees, so they don't go elsewhere?
Arrants asserted that a mutually beneficial tactic is to increase the salary based on the certifications obtained.
"It's a carrot: get certified, earn more money. Obtain another certification; make more money, "Arrants said. "It's short term. They don't have to wait five years to do it.
He said fleets and workshops of all sizes can practice this approach of investing in retention efforts to address workforce issues and technician shortages.
"Those companies that have taken this approach, we have not heard from them," Arrants noted.
Arrants said that in technical schools and community colleges alone, they produce about 11,000 graduates per year.
"The interest has been there; I just don't think the transition from education to industry has been as smooth as it could be, "said Arrants. "If we start to fix these issues, some of these massive shortage issues will start to ease. "
Family affairs
It all starts with a warm welcome and a friendly atmosphere. Most of these young graduates who started in their first store belong to the Generation Z category, born between 1997 and 2012. They do not remember the world before 9/11 or cell phones, but have a lot of knowledge. experience with terrorism, endless wars. , and recessions. Basically they have seen things and want to spend their time on things that they enjoy.
See also: Understanding Gen Z Could Be Key To Unblocking Staff Shortages
"My generation, we live to work; this generation works for a living and maybe they got it right, "Arrants said. "And some of our [older] people need to understand that there has to be this work-life balance.
Part of that is making work feel more like home.
"Really focus on making technicians coming out of schools ready to enter the industry and being properly integrated," Cigala advised. "If he doesn't feel like part of the family – maybe in trouble and no one is helping or looking over his shoulder – he will be gone in less than a year for something else." "
Cigala said that just explaining the basics in more detail can go a long way: "Understanding when they get an oil analysis report, where some of these contaminants are coming from and where to do a repair, that is. is huge. "
Arrants agreed that "fitting them into this store culture" and making them feel that esprit de corps is all too rare is crucial.
"Some employers forget that if you're with your techs eight or nine hours a day, they spend more time with you than anyone else in their life – and if they can't feel like part of it. 'a family or a group, they're going to go somewhere else to get that feeling,' Arrants proposed.
Those who ran away
ASE survey data indicated that after graduating from high school and trades school, 20% immediately quit the trade and 21% within the first two years of their new career.
"Now, thanks to the polls we did when they leave, they don't leave the trades using their hands – they just don't stay with us," Arrants said. "They're on construction, or HVAC or, or whatever, wind power is a big deal."
And how much time your team has spent working on the local schools curriculum and mentoring students is simply mind-blowing.
"We coached them, we got them excited, then we took their sails out of breath and they went elsewhere," said Arrants.
ASE surveys have also revealed the root cause of the new technicians leaving the ship.
"The number one reason someone leaves is the boss," Arrants said. "When an employee leaves your company, what they say to you is, 'Better the unknown than stay with you.' And people don't like to hear that, but it's the truth.
To be a good boss, you first have to find a good mentor for this new technology, someone who has to watch over your shoulder. And that mentor is probably not the one who bills the most hours or who knows the best electrical troubleshooting.
"He's not your best tech in the shop," Cigala said of the best mentors. "Usually it's the tech who's been there for a while, knows the ins and outs, and can work closely with that new tech to help them out. "
Competitive nature
A final approach is to encourage technicians to participate in maintenance skills competitions such as TMC SuperTech. At the very least, it tells an employee that their boss trusts them. The last SuperTech Grand Champion, Chris Tate of Mohawk Trucks, recognized that encouragement from the late company owner was integral to its success.
"It's something for the technician to compete and really show how good they are," Cigala said. "And some of the prices they are offering at SuperTech are just amazing. Between the tools, the money and the travel, it's just fantastic.
The 2021 grand prize was over $ 20,000 in tools and other prizes.
Cigala also said that some fleets have requested the setting up of "mini" SuperTech competitions at their facilities. These team building exercises also provide data on areas where technicians need help.
"They thought their technicians were well trained and knew everything until we started noting the tests and found out they didn't know it," Cigala said of one of those on-site events. . "It was very revealing to them."
---
This article originally appeared on Fleet Maintenance.
[ad_2]