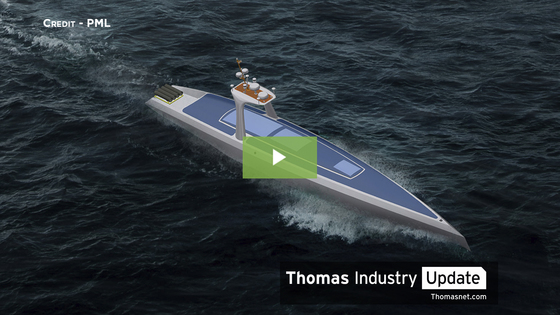 Unveiling of the world's first autonomous long-range marine research vessel
Welcome to Thomas Insights – every day we post the latest news and analysis to keep our readers up to date with what's happening in the industry. Sign up here to get the day's top stories straight to your inbox.
Plymouth Marine Laboratory (PML) has unveiled designs for Oceanus, a long-range autonomous research vessel which PML claims will be the world's first. The plan is for this vessel to contribute to advanced international marine research and achieve net zero oceanography.
While most current oceanographic sampling is done either by moored data buoys, smaller autonomous devices, or fully manned research voyages, the 77-foot-long, 11.5-foot-wide Oceanus , is completely unmanned.
This lightweight monohull vessel was designed to perform transatlantic sampling voyages from the UK to the Falklands. It has self-righting capabilities and will be powered by two pod drive engines.
A battery bank will power the motors and a variety of onboard electronics, such as traffic lights, cameras, sensors, multibeam sonar and a depth-sensing system.
It will carry monitoring sensors to collect data in areas such as biodiversity, climate change, biogeochemistry and fisheries. The vessel will also use AI technology with real-time weather forecasts and marine data feeds to navigate optimal courses.
Oceanus will use on-deck solar panels and onboard micro-power generation devices. Although it has a diesel engine, the lack of humans and living facilities will reduce fuel consumption.
Plymouth Marine Laboratory Chief Executive Icarus Allen described Oceanus as "a hugely exciting company, with the ability to revolutionize the way we conduct marine research expeditions and support the march to net zero. Not so long ago this would have been the stuff of science fiction fantasy.
PML did not reveal when construction would begin or end or when Oceanus would embark on its maiden voyage.
Image credit: TIU
Rising Trends in Steel and Metals Supply in Tariff Negotiations
Next story »
More Engineering & Design