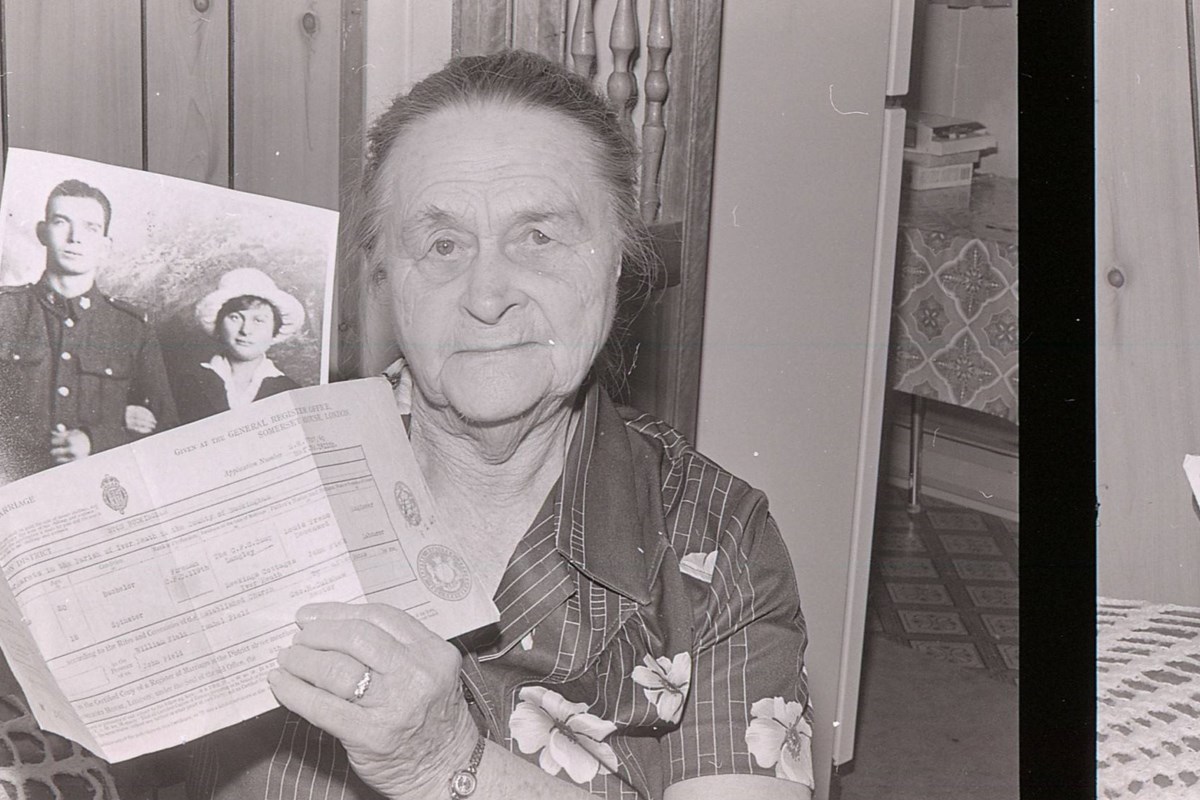 This time 48,000 women came to Canada to get married
[ad_1]
A brief history of the Overseas Women's Association, the war brides social club and its connection to the Sault
From the Sault Ste. Marie Public Library:
Everyone loves a good story, especially a love story. The popularity of TV shows such as The Bachelor, The Bachelorette, 90 Day Fiancé, and the Harlequin novels attest to this.
Forty-nine women embodied a true love story when they arrived in Sault Ste. Marie after WWII as war brides. Their stories also involved a healthy dose of danger, adventure, and bravery in risking everything they knew to have a chance at a better life.
The term "war brides" was the title given to the more than 48,000 women who married Canadian servicemen stationed abroad during World War II, who then followed their new husbands to Canada after the war, or who made the call. travel during combat to escape the dangers in their home countries.
These women in particular faced many dangers as they crossed the Atlantic Ocean while German submarines patrolled the waters. This was the case with Ms. Jean Cartmill, one of the forty-nine women who traveled to Sault Ste. Marie, who called her trip to Mauritania "eventful" because the ship was followed for some time by the enemy.
Despite a military warrant condemning marriage, countless servicemen have found love while on leave at prom or pubs, or with women who were themselves in service. The dangers of war reinforced the belief that time was precious, and since there was no guarantee that you would survive until the next day, marriages were often concluded after short courtship displays.
The wedding ceremonies themselves were simple affairs with homemade dresses (some were made from parachutes!), Men in their uniforms, and small receptions due to food rationing. As the number of such marriages increased, an organization was founded by the government, the Canadian Wives Bureau.
It was here that brides could apply to immigrate to Canada and could find help with the transition to a new country. This organization also organized the eventual transport of war brides to Canada by boat and then by train.
Their transportation was funded by the Government of Canada and was one-way. Wives also have free passage for their children.
Traveling aboard refitted personnel carriers or converted ocean liners such as the Queen Mary, many women have reported hanging diapers to dry by luxurious swimming pools or putting babies to sleep in hammocks above their bunks. . For some, the trip to Canada was an enjoyable adventure where they could revel in the company of other young wives and feast on the plentiful food.
After suffering rationing through all the years of the war, many brides were over the moon to feast on fresh fruit, bacon, eggs and cheese.
For others, the trip was one of seasickness, child crying and intense feelings of homesickness. Many feared that they had made a terrible mistake and longed for their parents.
Margaret Maxwell, another war bride destined for the Soo, reminded the Sault Star in 1996 of how she remembered slowly drifting towards Halifax Harbor.
"They were playing Here Comes the Bride, and there wasn't a dry eye on the ship." She said: "It is a strange feeling when you enter a foreign country. You are alone, there is no phone to call home and you cannot go back.
Many women were unprepared for the change in pace, lifestyle and landscape. Many were leaving crowded cities with modern amenities and were shocked by Canada's vast wilderness as they traveled through it by train on their way to their destinations.
They were also not prepared (or perhaps warned) of the living conditions. Margaret Maxwell's new husband worked at the Algoma Ore Division in Wawa.
"There was no water, no indoor toilet, and I had never seen a Coleman stove in my life. I thought it was the last place God put on earth. I had never seen the bush before and there were no roads out of town. "
Needless to say, this was all quite an adjustment for these new Canadians, so a War Brides Club was formed in 1952, which would later be renamed the Overseas Women's Association.
The majority of the members were British and held monthly social gatherings which Margaret Maxwell said felt like 'coming home once a month'.
The club helped quell the incredible homesickness and loneliness that many felt. The club continued for many years – they held annual banquets and the very popular Mistletoe Hop event.
The Sault Star reported in May 1968 that "British Isles girls and their husbands really know how to party. They are perfect for singing and dancing spontaneously.
Joyce Armstrong was one of the original members of the War Brides Club. She reported to The Sault Star in 1967 that "this country is a land of opportunity but it doesn't flatter you. You have to work for what you want yourself.
She also felt that there were wonderful opportunities here that would not have been possible in Britain – "a home of your own, a car, a caravan, a vacation away from home every year, were common places. in Canada". She also said that "this country is growing because of you".
There were a lot of new things to get used to – black flies, husbands hunting and fishing, alcohol laws, the taste of Canadian food, in-laws they've never been able to meet before. marriage, no indoor plumbing or electricity in some cases and desperately cold snow winters all needed some adjustment.
Joyce recalled in 1996 to the Sault Star: "I was lucky. I never had a pink image of Canada, but some girls were and they came here with false impressions.
A war bride who arrived at the Sault with an additional obstacle to overcome is Ghislaine Thibodeau. She sailed to Canada in 1946 and was Sault Ste. Marie de France's first war bride.
This is all the more remarkable given that the Canadian Encyclopedia indicates that only 100 war brides came from France after World War II. According to a 1994 Sault Star article, the first few months after arriving were a bit difficult as she could not speak English and relied on her husband's family to translate for her when she was in the community.
Another war bride who had a language barrier to overcome was Anneke Thompson, who was from Holland. She had met her future husband at a church fellowship meeting in her home country after his release.
When he left for England in the fall of 1945, they feared they would never see each other again, but they began to write letters to each other and the romance blossomed. The love letters continued for more than a year until it was announced that women engaged to the military would be allowed into Canada if the Canadian was responsible for the passage.
After a 10-day trip on an ocean liner to New York, a train to Toronto to meet her fiancé Percy, and a long drive on sometimes flooded roads, Anneke arrived in Sault Ste. Married. The couple only had three weeks to get married by the Canadian government, once Anneke arrived on Canadian soil.
The term war bride is generally used to refer to those who married servicemen during WWII, but is now also used to refer to women who married and also made the trip to Canada after WWI.
Ms. Nellie Premo would be the very first war bride to arrive in Sault Ste. Marie on January 13, 1919. A 1992 Sault Star article says that she was only 20 years old and was carrying a baby when she got off the train at Bruce Street station, only to find he was born. there was no one to greet him.
Being dropped off in a strange new town in the dead of winter in an unfamiliar country would be quite overwhelming, but Ms. Premo took care of it all. Her husband Louis (whom she had met about a year before and married after a short courtship) had returned to the army barracks in Toronto and was not there to meet her.
With the help of a delivery boy, she found her new in-laws' home and settled into her new life in Canada.
She had eight more children and made it to Sault Ste. Marie his permanent residence. After a rough start in northern Ontario for many war brides, they quickly acclimated to their new homeland and left a lasting legacy for the families they raised and their charities in the community.
They found the truth in the old adage that "home is where the heart is."
Each week, the Sault Ste. The Marie Public Library and its archives give SooToday readers a glimpse into the city's past.
To find out more about what the public library has to offer, visit www.ssmpl.ca and search for more. columns here
[ad_2]