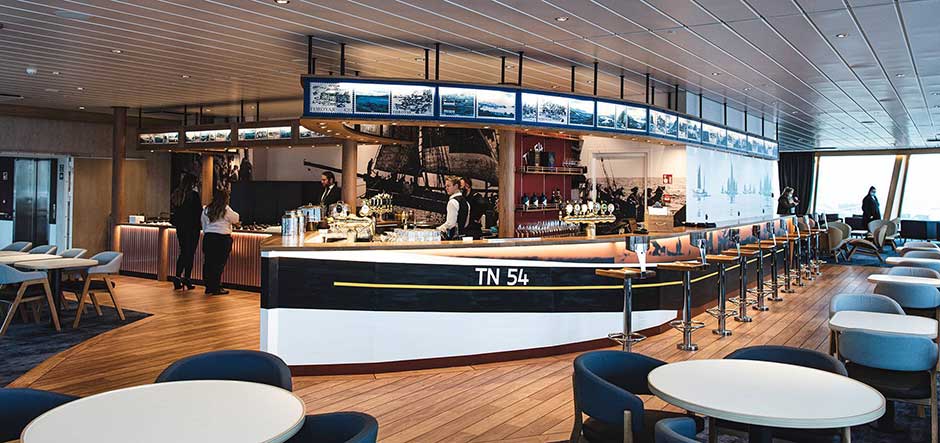 The sky's the limit on the Smyril Line Norröna
[ad_1]
The new outdoor sky bar and lounge area, Laterna Magica, is one of the public areas Aros Marine worked on during the 13 million euro renovation of Norröna.
Earlier this year, Faroese shipping company Smyril Line carried out a 13 million euro ($ 15.7 million) refurbishment of the Norröna ro-pax ferry, modernizing onboard facilities and adding 50 luxury cabins, with a additional space created by moving crew cabins to another location and removing shared cabins. The ferry, which sails from Hirtshals in northern Denmark to Tórshavn in the Faroe Islands and Seyðisfjörður in Iceland, has also had its upper deck redesigned to include a new outdoor sky bar and seating area with panoramic views. Aros Marine played a central role in these renovations.
The shipbuilding and repair company has been active in the marine industry for over 10 years and has grown from a team of five to a company with over 600 skilled and experienced employees located around the world.
On the Norröna project, Aros Marine was responsible for the new panoramic lounge, Laterna Magica, which is located on deck 10, a total of 30 meters above sea level and offers a view of the ocean horizon while the ship crosses the Atlantic.
Laterna Magica is conceptually reminiscent of the Viking Crown lounges that were found on some of Royal Caribbean International's cruise ships in the 1990s and provides a tranquil setting for viewing the surrounding seascape. The Aros Marine team completed the design and engineering work from scratch and produced all the furniture required for the bar concept. The company has also worked on other public spaces, such as the reception area and boardwalk seating, and provides project management and installation services.
According to Jóhan av Reyni, maritime director of Smyril Line, the advice and insights of the Aros Marine management team regarding "the design and engineering solutions regarding the bar concept and the overall furniture manufacturing" were important to the success of the project. Norröna resumed her North Atlantic route on March 1.
This article first appeared in the 2021 issue of Cruise & Ferry Interiors. All information was correct at time of printing, but may have changed since.
Subscribe to Cruise & Ferry Interiors for FREE here to receive the next issue straight to your inbox or doorstep.
Share this story
[ad_2]