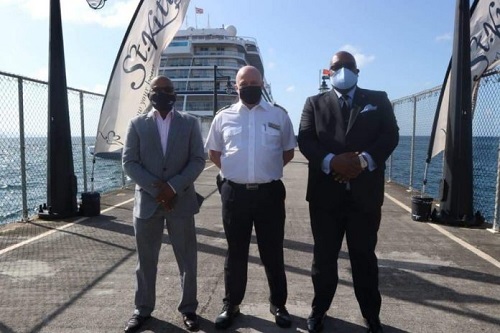 The fourth cruise ship of the season 'Viking Orion' has docked at Port Zante in St. Kitts
[ad_1]
Saint Kitts and Nevis: "Viking Orion", an ultra-luxury vessel from Viking Ocean Cruises arrived in Saint Kitts and Nevis on Monday. This is the fourth cruise ship to dock at Zakynthos port and was greeted by Prime Minister Dr Timothy Harris and other officials.
The cruise will visit the shores of the Twin Island ten times during the 2021-2022 winter season.
Tourism, Transport and Ports Minister Lindsay FP Grant, during the inaugural call, said this visit of the 'Viking Orion' portrays the strong relationship and demonstrates the confidence of Crusie liners in St. Kitts and Nevis.
'Viking Ocean Cruises' is the largest luxury cruise line and was even voted number one in'Condé Nast Traveler's Readers' Choice Award 2021. The Viking Orion departs from – Fort. Lauderdale, Port Everglades, on a 14 day cruise itinerary on which the cruise visited St Kitts on day three.
Viking Cruises made their first visit to the Federation of Twin Islands in 2016, after which several ships, including the Viking Sky, Viking Star, and Viking Sun, visited the island.
Racquel Brown, CEO of the St Kitts Tourism Authority, said: "We would like to thank Viking Cruises for their valuable partnership and for including Saint Kitts and Nevis on the Viking Orion inaugural season itinerary.
Cruise passengers can visit several aesthetic places during their visit to the Federation of Twin Islands including – the historic and one-of-a-kind fortress and Brimstone Hill National Park, Caribelle Batik, where the hot wax manufacturing method of the batik fabric is still used or the St Kitts Scenic Railway, the last and only passenger railway in the West Indies.
Passengers can also enjoy and stroll along the beautiful beaches, South Friars or Carambola Beach Club, visit a fully restored French plantation house at Fairview Great House or enjoy the tropical gardens of Palms Court Gardens.
Related
[ad_2]