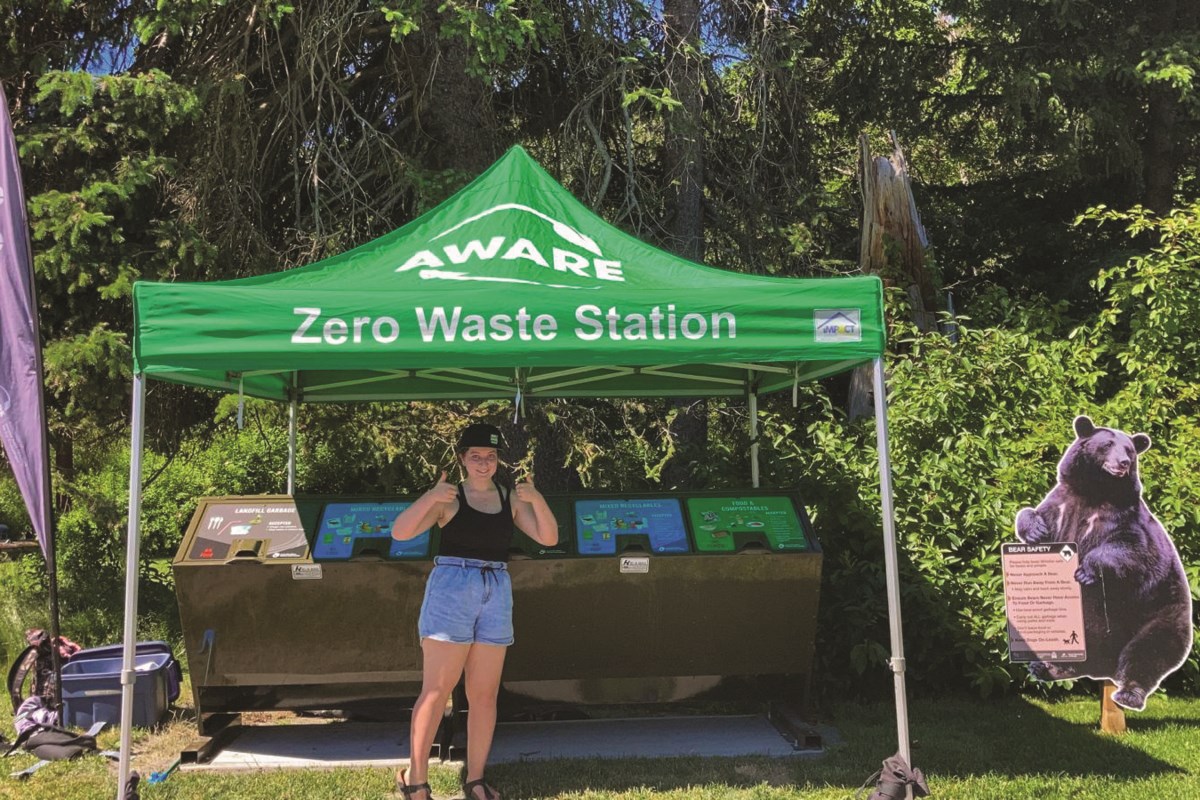 RMOW muling standardized compostable packaging
Inadvertent contamination of the village waste stream increases disposal costs by 25% for the RMOW
The Resort Municipality of Whistler (RMOW) is considering major changes to its waste management program after an audit this summer showed there was ample opportunity to divert more waste from the landfill, including the possibility of encourage companies to adopt standardized compostable packaging.
"I'll start by saying it's not a glamorous job," said Jessie Gresley-Jones, general manager of the RMOW's resort experience, during a Feb. 8 board presentation. "It's dirty work, but it's work that will have a significant impact on our village and our commitment to the Sustainable Development Goals.
In August, the RMOW, with guidance from the Association of Whistler Area Residents for the Environment (AWARE), undertook two litter audits (one over a single day and one over seven days) in the village and major parks of Whistler. The audits identified 'clear gaps' in waste management, with a diversion rate of just 35% and the possibility of reaching a rate of 76% village-wide.
The seven-day audit collected 1,118 bags of litter, with Lost Lake, Rainbow Park, Meadow Park and Alpha Lake as the top litter-generating parks. But most of the garbage – 69% – was collected in the village. "So improvements to parks over time make a difference, but we really need to dive into substantial changes to the village streetscape environment," Gresley-Jones said.
Contaminated streams
Several factors complicate waste collection and disposal on the Whistler streetscape. Inadvertent contamination of recycling and composting streams increases disposal costs by approximately 25% for the RMOW, to the tune of approximately $12,000 per year. Part of that is a lack of compost bins in the village, something the RMOW wants to prioritize this summer. Coffee and ice cream cups, as well as dog droppings, which accounted for 18% of all litter collected during the audit, are significant contributors to contamination. Notably, while coffee cups made up just 2% of litter collected, they were found in 92% of trash bags, demonstrating widespread confusion as to which waste stream they belong to. Gresley-Jones said, at least tentatively. , the RMOW is likely to set up a waste stream just for coffee cups in the village "until we can tackle [getting] companies on board to use the same product.
One recommendation from the Feb. 8 report is that the RMOW provide local businesses with a list of standardized compostable packaging products — from coffee cups and lids to take-out containers — to help guide their purchases. "The goal is that we can align business practices with the realities of our current system," Gresley-Jones said.
It wouldn't be an easy task, of course. Fortunately, many local businesses have a head start when it comes to compostable packaging, said Tony Horn, co-owner of Slope Side Supply.
"Probably around 2007, 2008, when VANOC really started, there was a real push for compostability for the [2010] Olympics," said Horn, adding that these days his company only sells compostable coffee mugs and cutlery. "We just made business decisions that our customers have happily embraced and wanted."
While supporting the RMOW's approach, Horn said there are many variables complicating the possibility of standardized packaging, including COVID-related disruptions in the supply chain, as well as differing policy approaches across the world. He cited as an example a recent policy change in Taiwan, which meant the country no longer produced nearly the same level of affordable compostable packaging for overseas customers as before. Horn also launched the RMOW on coffee cups marked with a colored dot that would correspond to the appropriate bin, an approach the municipality is exploring, "but then it gets complicated because we also sell in Pemberton and Squamish," a- he declared. "They have different philosophies around this stuff and they don't have the same waste management facilities that we do, so we end up in this weird situation where it's not easy to do on our end."
Drastic measures?
The RMOW is also considering the possibility of banning certain packaging products in the future, although city staff acknowledged that it is unclear whether the province would support such a move.
"It will likely be viewed as potentially controversial and burdensome, but it also sets the bar high for Whistler taking definitive action to deal with sustainable waste," Gresley-Jones said.
However, there is precedent for such a decision, both regionally and nationally. A new City of Vancouver bylaw that took effect Jan. 1 bans the use of plastic shopping bags and introduces a 25-cent charge for disposable cups. In December, the federal government released draft regulations to ban six types of "harmful" single-use plastics in Canada: straws and stir sticks, six-pack rings, grocery bags, cutlery and hard-to-recycle take-out containers (although Canadian manufacturers will still be allowed to produce these items for export). The regulation is expected to come into force this year.
"Federal and provincial regulations have already announced plans to begin phasing out (banning) consistently problematic waste streams," AWARE Director Claire Ruddy wrote in an email. "What we've seen through local efforts to eliminate plastic bags is that voluntary programs can work (the grocery bag levy initially resulted in a 50% reduction in bag use ) but requires ongoing community engagement, education, etc. more permanent change will come through politics.
hero worship
AWARE has also played a huge role in improving diversion rates through its Zero Waste Heroes program, which sees staff overseeing waste sorting stations at major events and educating attendees on reducing their waste. On days this summer when Zero Waste Heroes was in place, diversion rates nearly doubled, from 33 percent to 62 percent, the RMOW found.
"Waste that ends up in streetscape bins is a challenge because there is such a great mix of packaging products, [and] they cannot be cleaned like at home, so food/drink residue acts as contaminants and each individual must read the often hard-to-see labels, AND be clear about which bin is the correct one," Ruddy wrote in his email. -mail.
This addresses another recommendation from the report: improve signage and labelling, consolidate trash cans and remove all redundant receptacles throughout the village, with a particular focus on the Olympic Plaza.
"You've probably noticed that when you're on the [Village] Walk around, you can turn around and spot about three or four trash cans from any given spot. So we're going to look at how to consolidate those and provide more flexibility, with more streams in one place," Gresley-Jones explained.
He added that RMOW staff will take inspiration from other jurisdictions' labeling standards and colors, with particular emphasis on ensuring visitors to the Lower Mainland "have a compatible, similar and easy-to-use signage system. to understand".
Although Whistler's streetscape environment generates a fraction of the roughly 30,000 tonnes of waste generated in the community each year, it is significant due to the high public visibility of the village and parks, said James Hallisey, director general of the infrastructure services of the RMOW.
"I would love to see Whistler get back to a leadership position, and if we can show all of our visitors how we handle that, that will be a benefit that goes beyond Whistler," he said. "So I think there's a bit more significance to that beyond a small fraction of our total waste stream."