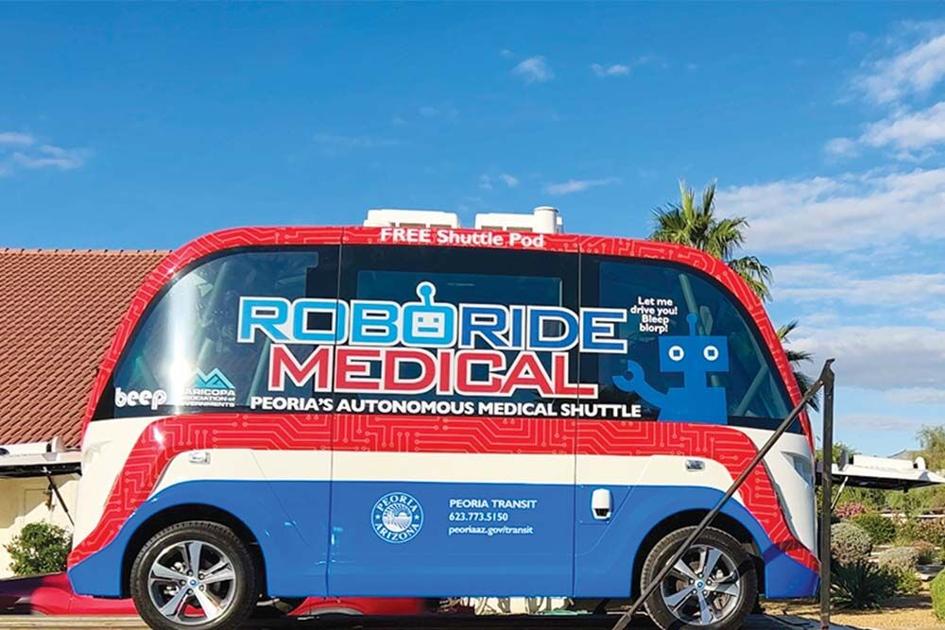 Peoria Expands Driverless Testing With Pilot Program | New
[ad_1]
For the second time, the city of Peoria is testing an autonomous shuttle, RoboRide Medical, in a six-month pilot program. The free, electric, driverless shuttle will open to the public in mid-November in the healthcare district near Plaza Del Rio Boulevard.
"Peoria is a modern and thriving community that embraces the evolution of transit," said Mayor Cathy Carlat. "As we assess future needs and opportunities, we are excited to collaborate with industry leaders and regional groups to identify how fully electric and autonomous vehicles can improve mobility in our community. I look forward to seeing the residents and families of Peoria join us as we explore this exciting and innovative concept.
The City of Peoria has partnered with the Maricopa Association of Governments (MAG) and Beep Inc. to bring RoboRide Medical to Peoria.
This pilot program is the second iteration of a study on transportation technologies in Peoria. The first project was a 60-day program where the shuttle, RoboRide, served a small route in the P83 Entertainment District.
Although suspended prematurely due to COVID-19, Peoria received positive feedback and useful transport data regarding driverless technology and decided to resume testing of this service with the knowledge gained.
With the help of ASU, the City of Peoria is studying the feasibility of an autonomous vehicle in the city's health care district as well as user behaviors and adoption patterns. Plaza Del Rio is home to more than 100 medical institutions and more than 500 residences for the elderly. This service connects Peoria residents from their point of origin to their destination within the same service area.
"This pilot project will help MAG to better understand how autonomous vehicle technology can help improve the safety and efficiency of the transportation system in our region," said Vladimir Livshits, Director of Transportation Technologies and Services at MAG.
"We look forward to reviewing the data and hearing feedback from residents who use the RoboRide Medical shuttle. This project is a prime example of how collaborative efforts between local government, the private sector, universities and regional planning agencies can implement innovative ideas.
MAG joined the pilot program to learn more about the technology and how it could be successfully applied in the region. MAG provides planning and regional policy decisions in the areas of transport, air quality, water quality and human services for Maricopa County.
"MAG is dedicated to exploring emerging technologies that provide access and transportation convenience to residents of our region and improve the quality of life," said John Giles, Mayor of Mesa and Chairman of MAG Regional Council.
"The RoboRide Medical pilot project reflects the region's commitment to improving transportation and affirms that the region is open to new technologies that improve the efficiency, safety and operations of our transportation system. This type of forward thinking and planning is necessary to ensure regional competitiveness for the benefit of our citizens.
RoboRide Medical does not have a steering wheel or pedals and will operate using a preprogrammed fixed route. No appointment, fee or preselection is necessary.
In addition, the shuttle can accommodate passengers with reduced mobility, including passengers in wheelchairs or scooters. The shuttle will always have an attendant on board to ensure passengers have a pleasant and safe experience. Additionally, the Beep Command Center will remotely provide an additional layer of support by communicating with the attendant at all times. RoboRide Medical can accommodate approximately eight passengers and will operate at a maximum speed of 15 mph. The shuttle will run from 8 a.m. to 2 p.m. Monday to Saturday.
"We are delighted to be returning to such an innovative community as the city of Peoria. Our partnership with the city and the Maricopa Association of Governments provides the perfect synergy to enable mobility for all communities and people, "said Joe Moye, CEO of Beep. "We are honored to be part of the Healthcare District near Plaza Del Rio Boulevard for the next few months providing first and last mile solutions to medical services for the senior community. "
For more information on the route or autonomous shuttle technology, visit peoriaaz.gov/transit. To learn more about MAG and Beep, visit azmag.gov and ridebeep.com.
[ad_2]