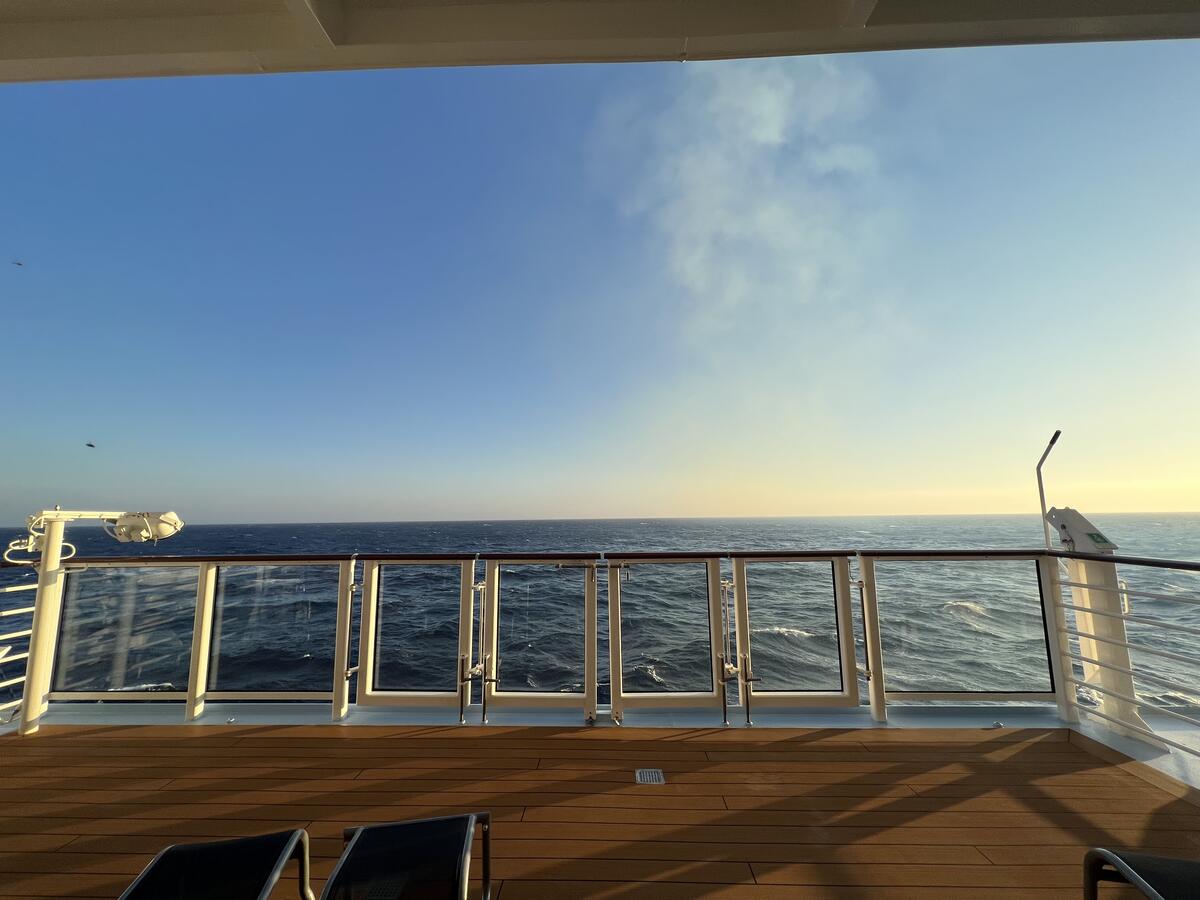 Odyssey of the Seas Live Blog – Day 3 – Sea Day
It's our second day at sea aboard the Odyssey of the Seas! Tomorrow we will be in Limassol, Cyprus – our first port of call. It's a new port and a new country for all of us, so we're very excited.
We had originally booked a walking tour for tomorrow, but after consideration we decided to cancel tonight.
The excursion itinerary included all the things we think we can do on our own and it will save us $200 to just get off the ship independently. There is no call for tenders tomorrow and we want to move forward at our own pace. It looks like a fairly easy port to explore on our own. I'll talk about it tomorrow!
One of the reasons we love booking shore excursions through the cruise line is the ease of cancellation, even the day before. We've been doing this for years and it's always been a breeze to cancel onboard excursions.
I jinxed us saying the sea was calm yesterday because we definitely wavered a bit today. Nothing horrible, but more noticeable and especially noticeable last night.
Day of the Sea Sleep and Breakfast
In the spirit of rest and rejuvenation, Angie and I slept in until 10:30. I had a great night relaxing and even took a bath in our cabin – a first cruise for me!
Our ship brought forward the dreaded time change last night, but all is well since we had nothing planned for today. I considered going to Hebrew class this morning, but my rest was more important than tripping over learning a new language in 30 minutes.
Our only option for breakfast was again brunch in the main dining room so we headed there.
I opted for a simple breakfast of yogurt and a bagel while Angie and mom had an omelet. Angie also re-ordered the French toast, which is served with a berry compote.
The menu was slightly different from the brunch menu yesterday morning which was interesting.
They also came with different and fun juices during breakfast which are free. I tried celery and carrot juice to try and nullify the alcohol I was consuming.
I like to have a slower morning breakfast on sea days, especially knowing we have 4 busy days ahead.
After breakfast, Angie went to a dance class with mom and dad on the SeaPlex. She explained it as a "random compilation of wedding reception songs" that included the Cupid mix and the electric slide. They said it was fun to dance and move. The instructor even noted how many people showed up and how happy he was to have such a large group!
During this time, I stayed in the booth so I could complete the scoring projects – which only took me about 45 minutes. I have to pay for the cruises somehow, right? !
My Taylor Swift Moment
After I finished my work for the week, I wanted to get pictures of the flat belly contest and see who would participate in this event. Come to find out that the event might have been over by the time I got to the pool deck, even though I was only 15 minutes late.
Dad claims he met someone who had a medal from the competition and said he couldn't miss it on the pool deck! I guess it was a quick competition.
Today is an important and historic day, because Taylor Swift has released her new album! As a big fan, I wanted to take some time to listen to the new album. It may sound silly, but it's something I love to do.
I headed to the upper deck and found there were plenty of places to get comfortable. I found a little colorful cocoon daybed to make my sacred Swiftie spot.
It was so relaxing listening to the album and the crashing waves in the distance. I was having a happy time.
In the distance, I saw the rest of my travel team walking around. Dad decided to hit the gym while Angie, Mom and I hit the pool. I opted for another Lime & Coconut cocktail and Angie joined me.
I love all the fun colors around this ship and couldn't help but take a cute shot of the cocktail again.
We also enjoyed a warm cookie pan from Windjammer topped with ice cream. Angie said the Windjammer didn't have vanilla ice cream – so she went to the ice cream station. We enjoyed listening to Caribbean tunes with other people.
Soon after, it was starting to arrive early in the evening, so we headed back to the cabin. I love having a balcony all to myself and not feeling like I'm missing out on an amazing ocean view on my way to my cabin.
I found that I liked spending more time in my cabin when I had a nicer, bigger room. I really love coming back to our suite and every night I have taken advantage of the walk in shower and tub.
Angie and Dad decided to try the Diamond Lounge while Mom and I finished getting ready for dinner.
They said they couldn't find a place to sit! With over 1,200 Diamond and Diamond+ people on board, I guess it's no surprise they couldn't find a seat.
My husband and I had the same problem when we sailed Anthem of the Seas this summer, which is the same class of ship. We went to the Diamond Lounge one night and did not return.
This is a disappointment for us as we always like to go to the Diamond Lounge before dinner and the smaller ships have much larger Diamond Lounges.
For dinner tonight we decided to deviate from our plans to dine at Giovanni's Italian Kitchen. We pushed our reservation to tomorrow evening, although we wanted to move it to the next day at sea.
We had 2 large meals the last two nights and just wanted to enjoy a more casual evening in the main dining room. We always seem to eat more at specialty restaurants because everything is so delicious.
Luckily for us, our dining table is right next to the window! We have a nice table that can accommodate all 4 of us.
I enjoyed another round of French Onion Soup while Angie had the Roasted Tomato Soup. Mom had her evening snail and dad loves the evening Caesar salad.
For entrees, we enjoyed Steak Diane, Chicken Cordon Blu and a pesto pasta dish. Everything was delicious and the views were unbeatable as the Mediterranean sun set.
We finished with Royal Chocolate Cake, Tiramisu and Cherries Jubilee. The Royal Chocolate Cake is an RCL staple and it seems every ship does it a little differently.
I loved the richness of Odyssey's Royal Chocolate Cake! Some of the best I've had.
Showgirl Production
Tonight's entertainment was a Production Show: Showgirl, which included the singers and dancers of Royal Caribbean. There was not an empty seat in the house for the first seats.
As I mentioned, this ship has an older population, so I assume everyone goes at the start of the show rather than the 10:15 pm show.
The show was dazzling with spectacular music and choreography. There were even acrobats at one point which was a fun addition. Everyone enjoyed the upbeat music. It was energetic and very entertaining!
Spurious observations
Dad also had an exciting day – he finally found some strawberry puree so he could get his Miami Vice at Music Hall. It's a fun venue every night with live music – my husband and I spent a few nights here during our summer cruise on Anthem of the Seas.
The ship is only sailing at around 60% capacity, but most guests are Diamond members or above!