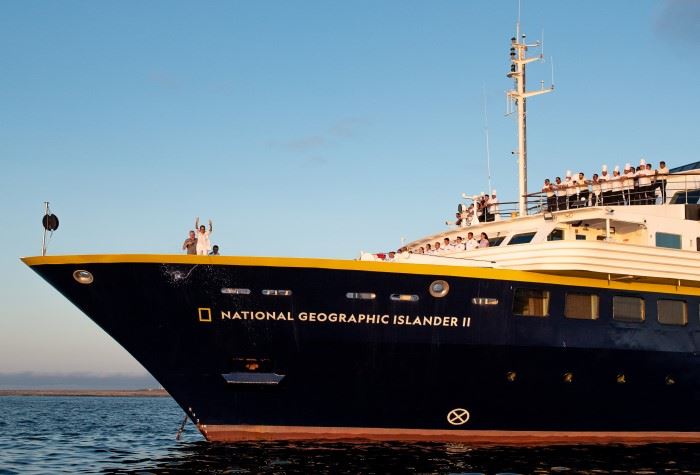 Lindblad names its newest Galapagos ship
Lindblad Expeditions officially named the newest addition to its fleet, this National Geographic Islander II, during a small ceremony in Galapagos. Angela Flaim, widow of Galápagos conservation icon Juan Flaim, presided over the appointment, along with Lindblad founder Sven Lindblad. Together they smashed a bottle of eco-friendly champagne from the bow of the 48-passenger ship.
The ceremony took place at Black Turtle Cove on Santa Cruz Island in the center of the Galapagos Archipelago, attended by VIP guests, local dignitaries, business leaders and media.
"May this ship be blessed with calm seas, curious minds and caring hearts as her guests celebrate the beauty and wonders of these islands and Ecuador," Flaim said during the nomination. "I wish those lucky enough to sail with her, both crew and guests, to experience the joy that is only possible when we explore life with passion."
"This incredible ship is our mission in motion, exciting guests to what we know about this wild place and, more importantly, what is yet to be discovered," said Sven-Olof Lindblad, founder and co-chairman of the board. administration. "As pioneers of Galapagos tourism, our expertise and commitment to true engagement with the natural wonders of this region provide us with extraordinary, life-changing experiences and a lifelong passion to protect these incredible and fragile environments."
In her first year in the region, the ship will host local marine scientists from the Charles Darwin Foundation and the Galapagos National Park Authority, in partnership with the National Geographic Society's Exploration Technology Laboratory, for a 10-day monitoring campaign to assess the biodiversity and distribution of organisms and habitats on largely unexplored seamounts that exist thousands of meters below the surface.
The latest exploration campaign, conducted in 2019, discovered two species of apex predator sharks that were previously unknown to inhabit the Galapagos Marine Reserve, as well as a kelp forest.
The former Crystal Esprit, National Geographic Islander II will now cruise Galapagos waters year-round. The ship's large-scale refit saw the addition of a science center equipped with the current oceanographic sensing capability, an interactive video display, laboratory benches and seating for guests to shadow scientists at work.
Two of the 26 suites aboard the ship are dedicated to conservation and community, and are reserved for members of the Galapagos community, local and international researchers, educators, storytellers and other experts on each voyage.
Other highlights of the ship include a well-equipped observation deck, indoor and outdoor dining options, and purpose-built expedition amenities, including a marina for storing snorkeling gear and easy boat boarding. Zodiac. The vessel carries a fleet of kayaks, stand up paddle boards, a custom glass bottom Zodiac and a flotilla of Mark V Zodiacs.
Travel Market Report will be on board the National Geographic Islander II starting today. Stay tuned for a closer look at the ship.