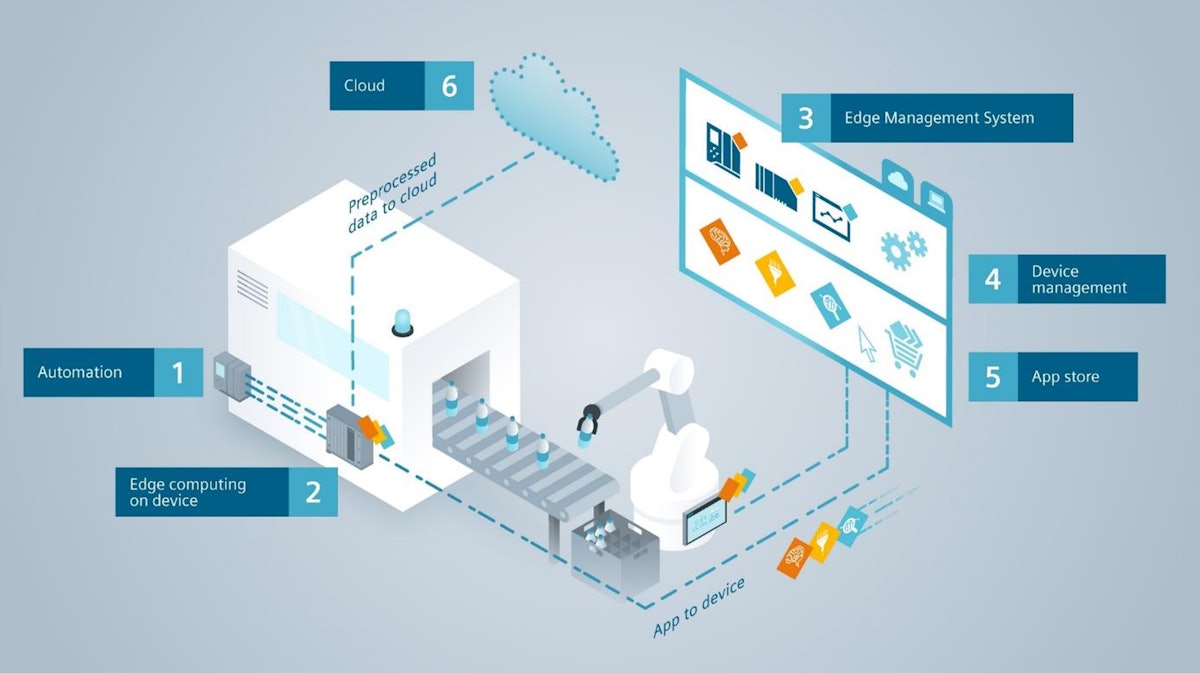 Industrial Edge software improves material handling
[ad_1]
In the material handling industry, every second counts and facilities cannot afford to waste precious time. Yet downtime continues to plague intralogistics companies.
Threats to operational efficiency abound, including low Overall Equipment Efficiency (OEE), high maintenance costs, and unpredictable machine availability. Advances in edge hardware and software, coupled with the availability of the cloud when needed, help address these and other challenges, enabling businesses to stay competitive and meet growing market demands.
The challenges of the OEE
As the landscape changes, many intralogistics companies lack the means to effectively manage automation equipment and track machine wear and inefficiency patterns, resulting in low TRS. Solving these issues requires a link between asset management and production, often missing in the traditional model of machine automation.
As a result, businesses are unable to predict downtime, creating a rush to fix issues when they arise. This reactive approach to maintenance, coupled with a myriad of software, firmware, and program revisions scattered across plant equipment and peripherals, increases costs and downtime.
To further complicate matters, many end users in the intralogistics space restrict original equipment manufacturers (OEMs) remote access to material handling equipment in their warehouses and distribution centers for security reasons. which makes it difficult for suppliers to guarantee availability.
Industrial edge devices securely connect OT and IT
Industrial edge software and devices can integrate OT and IT into a managed environment, helping users increase availability and OEE. Edge devices communicate directly with PLCs and other devices on the facility floor, conditioning the data for analysis and other IT applications (Figure 1, top).
These devices natively run multiple edge applications, including AI-powered predictive maintenance. For material handling, applications are available to monitor and evaluate the performance of motors and drives, improving OEE through condition monitoring and problem identification, pre-failure and downtime. unplanned shutdown. End users can run standard applications (Figure 2), or they can take advantage of Docker, a collection of Platform as a Service (PaaS) products, to build their own custom edge applications using high level programming languages.
Figure 2: Edge applications and out-of-the-box connectivity options available using Siemens Industrial Edge.Siemens

In addition, modern state-of-the-art management software enables OEMs to better support end users with access to machine diagnostic data, including indications of future failure. It works in both cloud and on-premises deployments, through a central hub from which all edge devices are managed (Figure 3), placing a barrier between plant devices and the cloud to resolve cybersecurity issues. .
Figure 3: Edge management centralizes system diagnostics and device and software version control.Siemens

An edge management system enables faster innovation cycles for developers and machine builders with centrally managed software, device and security updates. Information is displayed via easy-to-understand, out-of-the-box dashboards, including system diagnostics. This central system can also be used to exchange data with a plant's enterprise resource planning system.
In hybrid cloud-connected solutions, edge devices provide remote access to machine data, enable field-level data preprocessing, and unlock other cloud-based data analysis tools.
In on-premises solutions, they keep data local, process data in on-board edge applications with minimal latency, and deliver results quickly.
For the material handling industry, on-board devices can detect and notify operations and engineering personnel of operational issues, such as conveyor transmissions. By reporting problematic conditions before equipment failure, opportunities are created to resolve issues during off-peak times. This helps plant personnel identify replacement parts, mitigating the impacts of long lead times.
Results
A stacker crane manufacturer created a machine monitoring dashboard in the Siemens Mindsphere cloud to display data from industrial edge devices. The dashboard displays percentage of use, power consumption, hours run, drive and motor data, alarms and other statistics in a user-selectable time range, helping users to increase OEE.
Another conveyor system manufacturer implemented a belt slip monitoring system by connecting sensors to the Siemens Industrial Edge system. Out-of-the-box applications identified and notified facility personnel in the event of belt slippage, reducing the frequency of conveyor jams. Maintenance is performed using the Dashboard as a Service through the Perimeter Device, reducing downtime.
Out-of-the-box and customized tools improve efficiency
Edge devices and software bring computing capabilities to the field, even in situations where cloud connectivity is not possible or preferred, and industrial edge devices make it easy to analyze field equipment data, with connectivity optional cloud if desired.
With many out-of-the-box apps available and the ability to build custom apps using Docker, scheduled maintenance replaces unplanned downtime across the material handling industry.
Colm Gavin is the Portfolio Development Manager for Siemens Digital Industries Software. For more information, visit www.sw.siemens.com.
[ad_2]