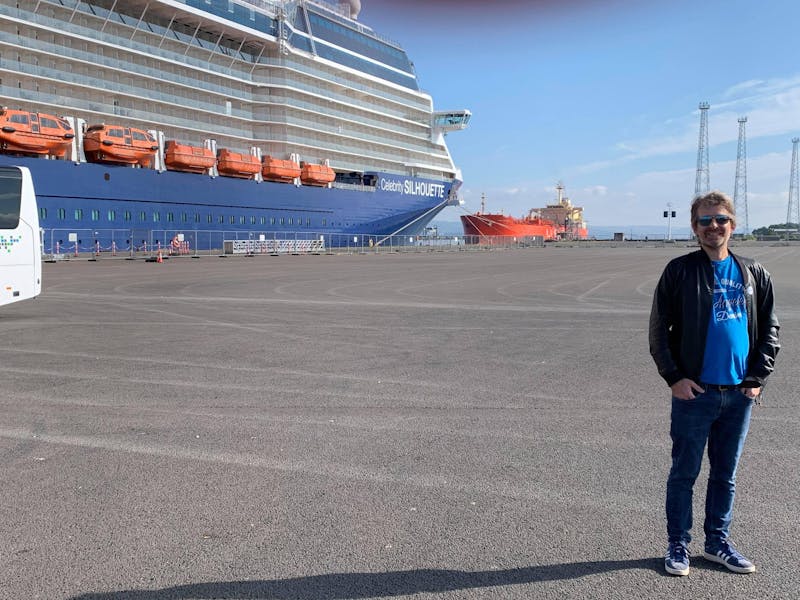 From March 2020 to the ship's first cruise in UK
[ad_1]
(6:00 p.m. BST) – Just over 15 months ago, I boarded the Celebrity Silhouette for a nine-night Southern Caribbean cruise from Fort Lauderdale. The date was March 5, 2020.
The plan was to get a glimpse of Silhouette's "revolutionized" interiors – particularly The Retreat terrace and lounge, the refurbished suites and Craft Social – before the ship arrived in Southampton last April. Which I did, but never got to show what we had filmed.
I had watched the news, I had heard of a disease in China called "coronavirus". I just assumed it would be contained there or in the region like some of the other viruses that came before it.
And as we know, in those nine days the world has changed.
The day before we returned, March 13, 2020, every major cruise line announced a break in operations and every ship at sea was heading for port. At the time, we didn't even know if we would be allowed to dock, as ships around the world were being diverted from ports.
We returned to Fort Lauderdale on March 15, 2020 and ran back to the UK before the borders closed.
I had no idea when I would see the ship again.
Meet an old friend
Fast forward to the Southampton docks in July 2021, and here I am, about to embark on the last ship I sailed on before the pandemic.
I hover over security (it helped that we were one of the last passengers to board) and stop to film on the gangway. So I'm on it. There is no fanfare, nor any of the cries and cries that greeted the first to embark a little after noon.
But I love this. It allows me to savor the moment and feel the sensation.
It certainly aroused a lot of emotions, not just for me, but for the crew and passengers, who all waited patiently for this day.
The ship sets sail just after 5 p.m. BST on July 2, becoming the sixth Celebrity Cruises ship to return to sea. Celebrity Millennium led the way, with the launch of the first major mega-ship in North America on June 5, followed by Celebrity Apex in Greece. On June 26, the Celebrity Edge became the first mega cruise ship to depart from a US home port. Flora restarted in the Galapagos this weekend.
It's a mixture of joy and relief – and a hope that the darkest days the industry has ever known are now firmly behind us.
So what does the now not-so-newly "revolutionized" celebrity figure look like?
Health and safety at the forefront
We are sailing just under 1,000 passengers, a third of the ship's capacity, as per government guidelines (although note that this is expected to drop to 50% of capacity, very soon).
And, as you might expect, improved health protocols are at the forefront of Celebrity's return to sea.
Not only does every passenger over 18 get a double vaxx, we all had to do a PCR test before 72 hours before departure. Children should collect a lateral flow (antigen) before departure.
Masks are required throughout the ship (and outside for the crew), as is constant hand sanitization – and there are certainly no hugs. A punch appears to be the preferred method of greeting).
There is a crew test center on the upper deck, and the entire crew is fully vaxxed. Signage is everywhere ("Do your part, stay away") – the elevators, the theater, the bars, the restaurants and the sunny terraces.
Capacity is limited in the Persian Garden, the Line's thermal suite, and all other gym treadmills are turned off to allow for distancing.
Well done for the E-Muster
I first got an alert to complete my safety briefing on my phone on the train to the ship, which I duly did, and have the ship pick up you did (you need to play the video) .
Once on board, I went straight to my muster station, checked in and had a small sticker affixed to my card. That's it.
No more self-service buffet
As has been widely observed, the self-service buffet is no longer. And neither are the self-service drinks. And since the ship has chosen to only open a limited number of service areas, crowds have gathered, especially at breakfast for eggs (it's a weird new system where a besieged waiter takes your order. and your name, instead then you wait for your name to be called. The problem was that several queues of people piled up, ignoring the new system).
Again, as has been suggested, this could become a problem as the numbers continue to pile up, but they either take the carnival route in the United States or choose to stick with a served buffet. , we'll have to wait and see.
Bars, restaurants and theater
The new Craft Social bar, which replaces the Cellar Masters, is like an upscale sports bar, with screens showing sports and a selection of bar food. But, while you could sit at the bar on my 2020 cruise, you can't on this cruise – you order from your seat or wave to a waiter.
However, at the Martini Bar, right across the landing, you can sit at the bar and chat with the bartender, so it's a bit confusing what the policy is.
In restaurants you can order via QR code, but in everything we have visited you have a disposable paper menu.
And in the theater, you'll see physical distancing signs on a two-in-two-seat block.
Off the ship
Shore excursions organized by ships are currently the only way to get off the ship. And these are strictly enforced. Our guide must have read us a long preamble from Celebrity explaining that we could not interact with other people or leave on our own or we could be denied boarding. We have to stay in our bubbles.
As England reopens, it looks like it may soon be abandoned there. But each decentralized nation has a different policy when it comes to easing COVID restrictions, and with the vaccination rate in Ireland so far behind that in Northern Ireland, it looks like bubbles will remain in Belfast for some time. .
Conclusion
Being back on the ship reminds me of spaces I remember being crowded, with people dancing at the silent disco or the Qasar, two or three depths around the Martini Bar, filling every available lounge chair around the pool, theater for conferences.
Walking around these past few days – people wearing masks, always giving a wide berth, reluctant to get on an elevator for fear of breaking capacity rules – makes it clear how old we are compared to just 15 months ago .
But it won't be long before those restrictions are relaxed – July 19 in England. ), Although still living in the shadow of COVID, that hasn't stopped people from having fun on board. – there was always dancing, there was always that Martini Bar glass casting show. England won against Ukraine and we watched it on a great July evening on the lawn on the upper deck.
It was as if normal life had returned.
Of course, we don't know what might happen tomorrow, let alone next week or next year. If there's one thing I've learned about this industry – its crew and loyal cruisers – it's that it's tough.
He weathered a 15 month storm, and he came out the other side – a little bruised, a little bruised, but stronger and wiser – and, hopefully, ready for whatever lies ahead.
[ad_2]