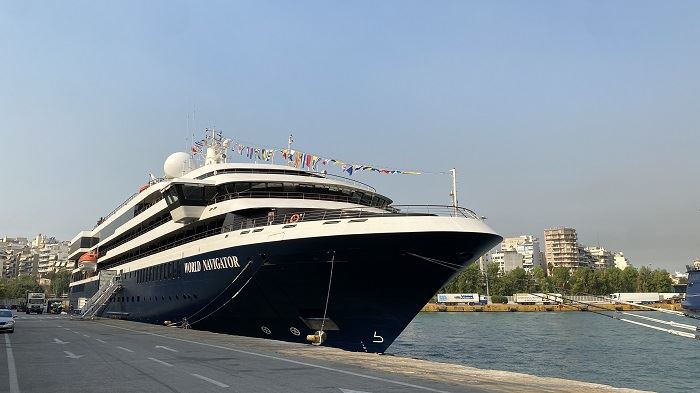 Atlas Ocean Voyages launches its inaugural service
The first ship in the new Atlas Ocean Voyages luxury cruise line has officially launched.
The line was one of the cruise industry's most anticipated new product offerings over the past two years and, after a delay caused by COVID-19, has finally welcomed guests on board to experience the product for the first time.
World Navigator, the first of five ships ordered from the line, has officially launched its first summer season of 7-12 night trips to Egypt and the Greek Islands. The ship will remain in Europe all summer before repositioning itself in Antarctica via the Mediterranean, the Caribbean and South America this fall.
Atlas Lounge. Photo: Atlas Ocean
"We are proud to launch World Navigator and usher in Atlas's signature luxury adventure cruises for discerning and fun-seeking travelers," said Alberto Aliberti, President of Atlas Ocean Voyages.
"Atlas has been the industry's first new luxury brand for over twenty years, and World Navigator is designed to bring today's luxury travelers to authentic cultural experiences and adventures in destinations far and away and fascinating to worldwide. On board, passengers can enjoy stylish accommodation, entertainment, dining options and amenities typically found on larger ships.
In total, the ship offers 98 suites and cabins ranging from 183 square feet. at 466 square feet While there aren't any solo suites to begin with, the plan is for World Navigator to start offering them in March 2022.
Outside the accommodation, guests can enjoy the first L'OCCITANE en mer spa, which includes two different therapy rooms, an infrared sauna and a serenity lounge. For entertainment, guests will be able to watch live performances in two lounges, the Atlas and Dome Lounges, which will feature pop, stage and American classics.

A veranda suite. Photo: Atlas Ocean
For dinner, World Navigator will welcome guests to six different locations: the main dining room, a chophouse called the 7Aft Grill, the Paula's Pantry sandwich shop, and the afternoon team room called The Dome Lounge.
All bookings are made with Atlas's all-inclusive rate which includes round-trip airfare, gratuities, Wi-Fi, shore excursions, and more. Last month, the line also announced that its all-inclusive rate will include emergency medical evacuation and return home insurance when the line launches next year.
The rate will include emergency medical evacuation from the ship to a hospital or shore-based treatment center, as well as the cost of returning home or to another medical facility near home.
Atlas also offers a 15% commission to its consultant partners on all bookings.